OPEN HOURS!
THURSDAY – SUNDAY: 3PM -9PM
The Cove Bar and Grill opened it's doors to the public last summer, quickly becoming one of the Shuswap's most popular local restaurants with campers and tourists alike!
Located inside the resort's Clubhouse in a beautiful grand log building, the restaurant features friendly décor, and an expansive patio overlooking the cove and the sparkling waters of Shuswap Lake.
Making for a casual fine dining experience you won't forget!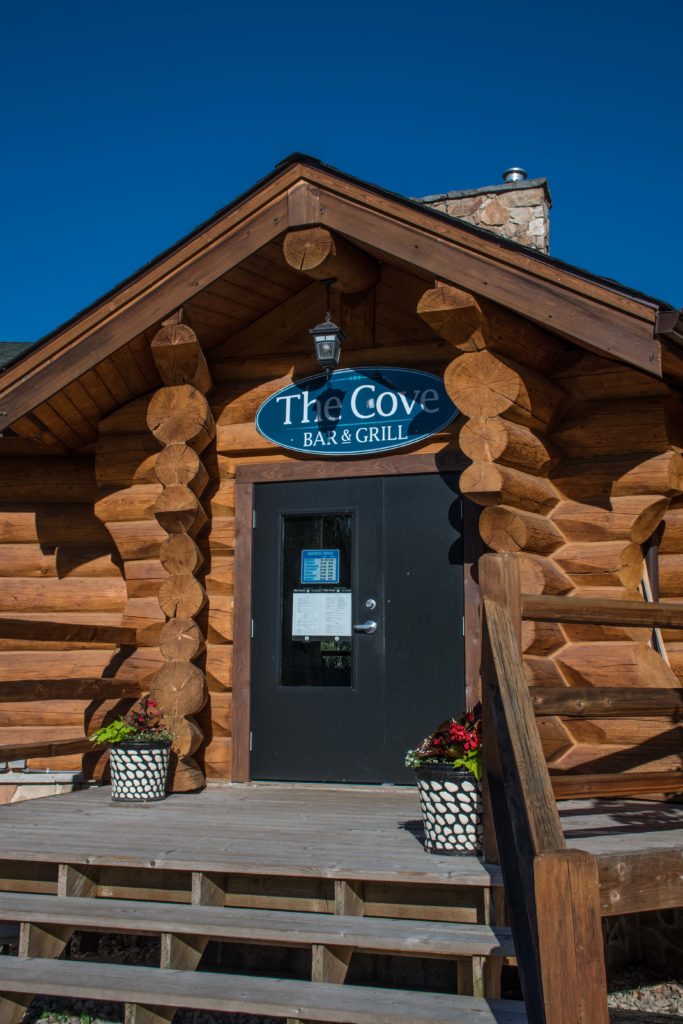 Has your menu expanded since last season?

After listening to our customers, the menu has expanded slightly with a steak sandwich, poutine, vegan and gluten-free options. Saturday and Sunday we feature a small brunch menu, including quiche and eggers.

We will be having new weekly features again this year. Surprises.. Stay tuned!

What were some of your most popular dishes last season?

The loaded burgers! Cooked in house and smoked all beef patties with no additives and served with fresh crispy veggies.

Fish and chips! High-quality cod lightly battered and served with french fries that are fresh potatoes, cut in-house daily and double fried.

Burritos! Big and tasty served in a 12" tortilla shell. Guests also raved about our taco salad, served in house-made tortilla bowls!

What are some of your staple drinks?

Some of the local favs were our caesars and diablo margaritas! Moscow Mules are a nice refreshing drink on a hot summer day!
Do you offer wine tasting?
 
Wine tasting Wednesdays are a lot of fun, offering flights of wine from local vineyards such as Celista winery, Monte Creek Ranch and Recline Ridge.

Where can guests park?

Visitor parking is available at the front gate of the resort. 

Please like us on Facebook @ThecoveatCottonwoods
Proudly Marketed by Fortune Marketing