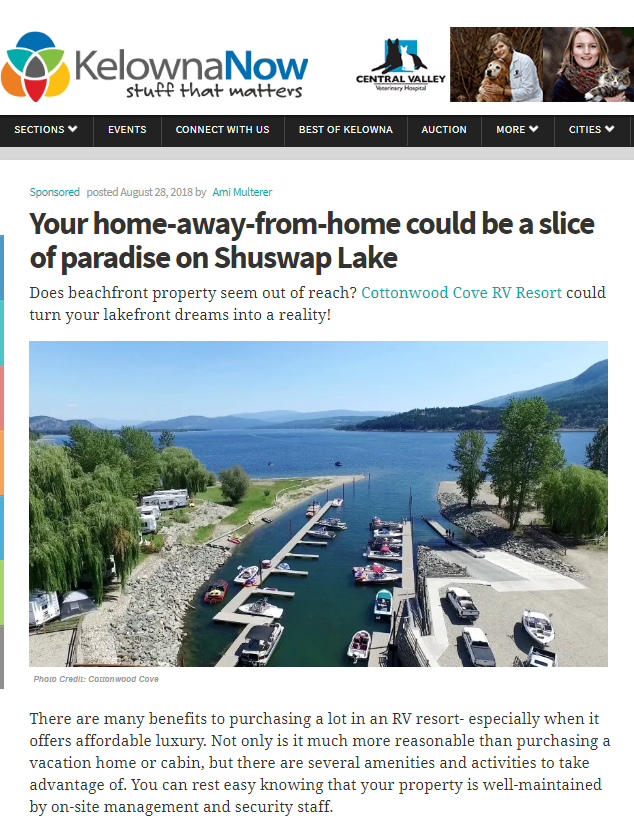 In The News! | Kelowna Now Article
September 5, 2018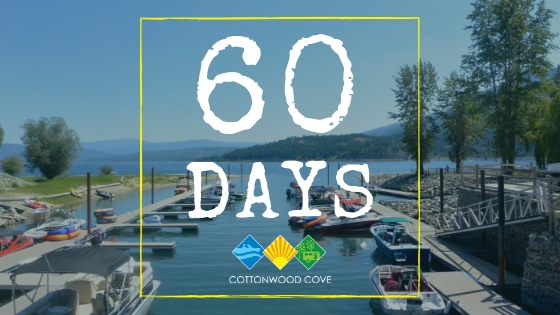 60 Days Till Opening Day!
March 4, 2019
Thank you for an amazing season!
It was an exciting summer at Cottonwood Cove and another busy season has come to a close. We would like to thank everyone who came out and shared our little slice of Shuswap paradise in 2018. It was so great to meet so many of you. I would like to welcome all of our new owners to the Cottonwood community and thank all of our valued guests for visiting!
Our last day of camping was October 16th and our general office is now closed. Don't worry, you can still make reservations for next year! Our staff will still be on site and can take bookings by phone (250-679-2294) or by email (info@cottonwoodcoveresort.ca) throughout the winter. Be sure to get your bookings in early as our availability is limited over the busy summer long weekend! For ownership inquiries please contact our Resort Sales specialist Holly at 250-864-1512 or email cottonwoodcove@fortunemarketing.ca.
The Shuswap is the perfect place to relax on the water and soak up the sun during the summer. With a variety of activities to choose from (hiking, biking, boating, swimming, water-skiing, and much more!) Cottonwood Cove RV Resort is a quintessential Shuswap experience.
We introduced a new restaurant this summer the highly successful 'The Cove Bar and Grill' which was a big hit with owners and seasonal campers alike. Guests had the option to dine inside or soak in the stunning Shuswap views on the expansive outdoor patio. Some cult favorites included the mouth-watering homemade burgers and fully loaded nachos.
A big thank you to everyone who participated in Cottonwood Cove's 'BEST Summer Photo Contest' and making it a success! The photos we received showed some of the best activities offered at the resort and the stunning Shuswap scenery shots were amazing! A big congratulations to our contest winners and runner-ups. The prizes of $100 and $25 'Cottonwood Bucks' (valid at the resort's convenience store, ice cream shop and sport rental shop) are valid till the end of season 2019! Thanks again and stay tuned for next season's photo contest!
Fall is also a gorgeous time of year to camp in the Shuswaps. The air is crisp, the leaves turn beautiful hues of orange and yellow and there's plenty of wildlife to be seen. No need to worry about getting chilly, because all of our sites are fully serviced with 50amp power hookups. We also have birch firewood available from our convenience store to keep your fire going.
Hopefully you got to experience the Adams River sockeye salmon run and "Salute to the Sockeye" Celebration. Every fourth year is a "dominant" salmon run, with millions of fish to be seen from late September through to the end of October! (2018 is a dominant run). There are still fish making the long journey from the Pacific Ocean to their spawning grounds of our neighbouring Tsútswecw Provincial Park.