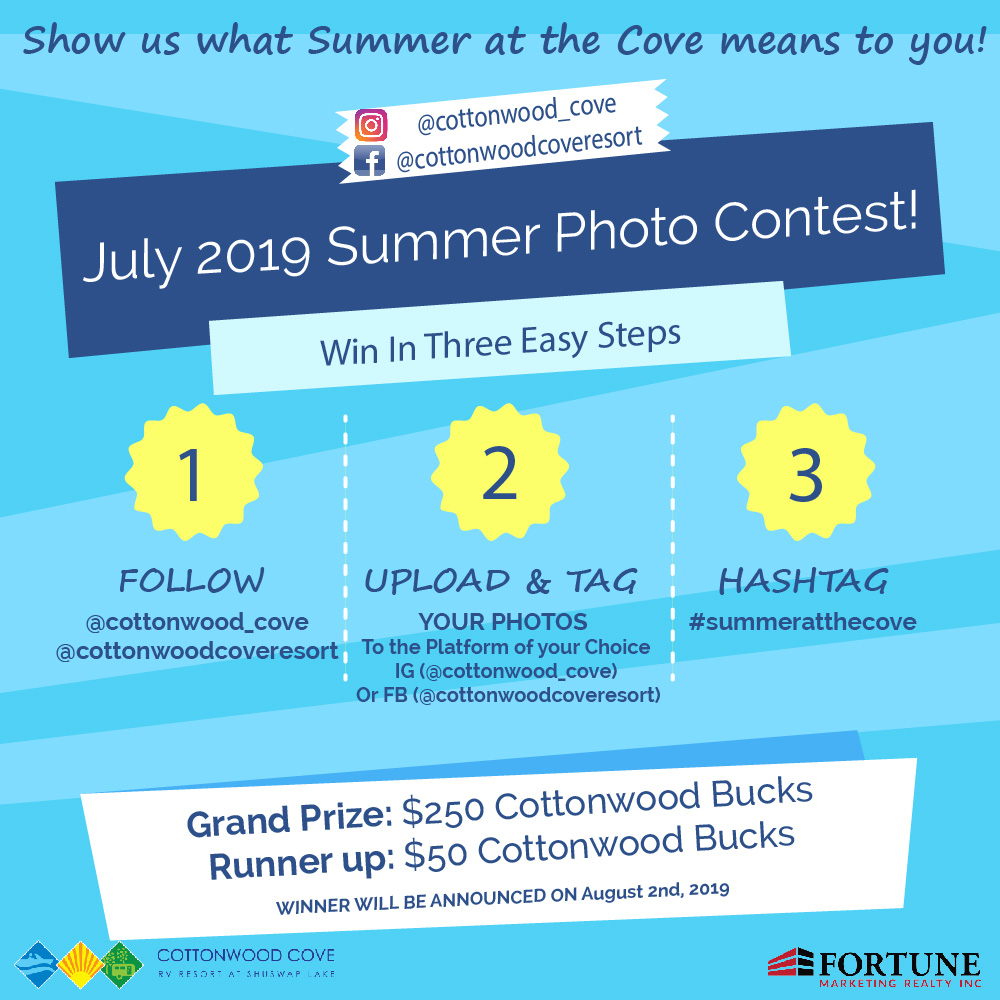 CONTEST INFO:
Are you ready for summer? School's out, the weather is heating up and it's time to plan some fun summer photo adventures. Show us "What summer at the Cove means to you!" by uploading your best summer photo during the month of July to your Instagram or Facebook account, and WIN!
Win Awesome Prizes!
One winner will be selected for the grand prize of $250 Cottonwood Bucks!
One Runner-up will be awarded $50 Cottonwood Bucks!
*Cottonwood Bucks are valid at Cottonwood Cove RV Resort's convenience store, water sport rental shop, ice cream shop and restaurant (The Cove Bar and Grill.)
How to Enter
1. Take a photo of your favourite moments from July 2019 at Cottonwood Cove and share it on Facebook or Instagram.
2. Tag us in the photo on the platform you choose either Facebook (@cottonwoodcoveresort), or Instagram (@cottonwood_cove), and use the hashtag #summeratthecove.
3. Winners will be contacted via Facebook or Instagram on August 2, 2019.
Contest Rules
1.Contest starts July 1st, and ends July 31, 2019 at midnight.
2. Photos must be taken at Cottonwood Cove RV Resort and the surrounding area.
3. There is no limit to how many photos can be entered into the contest, but only one prize will be awarded per winner.
4. No age restrictions.
5. Contest open to residents of Canada and US only.
6. No entry fee required.
7. By entering you have given Cottonwood Cove RV Resort permission to share your photos on the resort's platforms, Facebook and Instagram, for promotional purposes.
Be creative, have fun with it, and show us what Summer at the Cove means to you. Good luck to you all!
Need Inspiration?

Take photos of yourself and your friends and family participating in fun outdoor recreation activities – whether it is paddling in the cove, enjoying the beach, biking the trails or out on the water! The beauty of the Shuswap is endless!
Showcase your unique RV setup at Cottonwood!
A little humour goes a long way in capturing some of the best photos
Proudly Marketed by Fortune Marketing
WINNERS from last summer's Photo Contest!