CONTEST NOW CLOSED!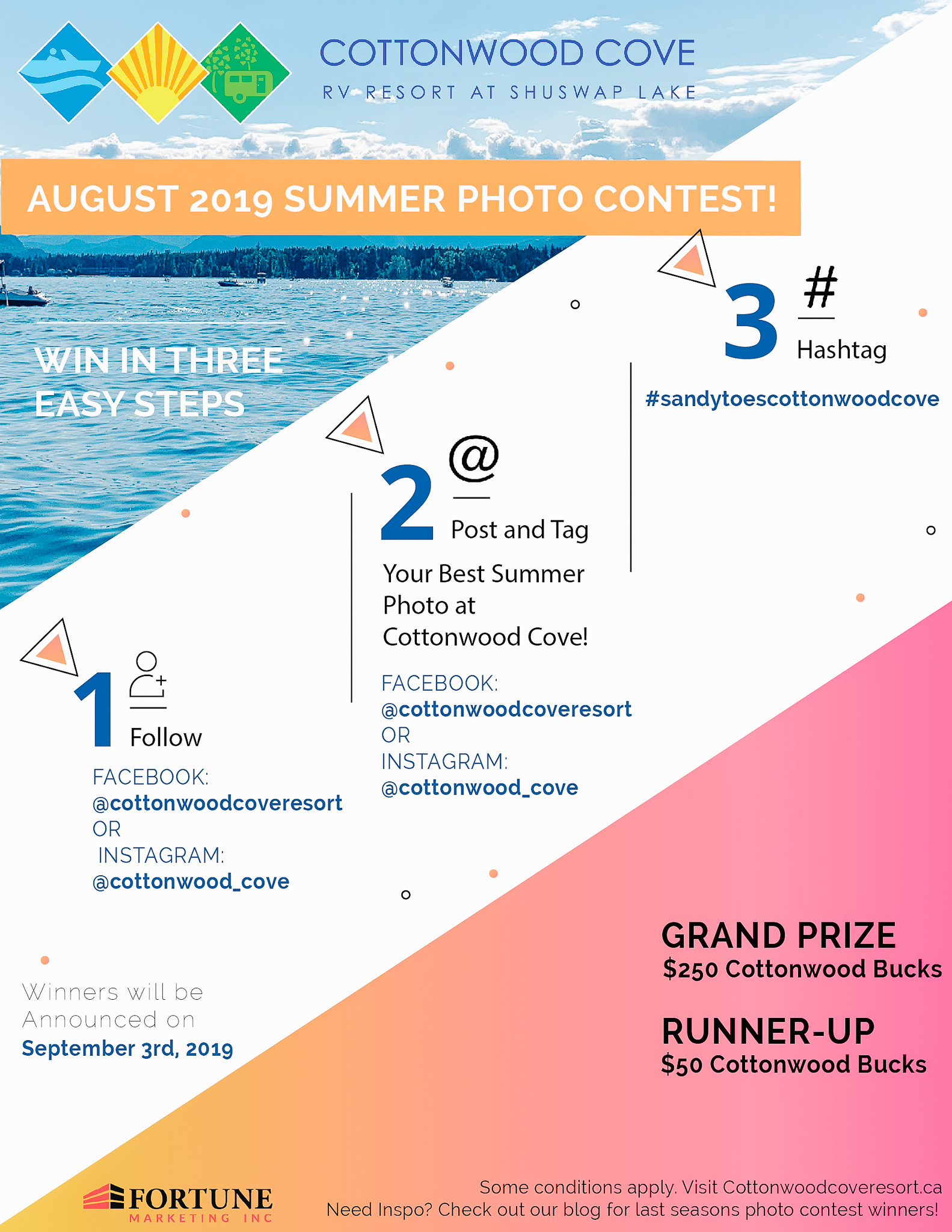 Cottonwood Cove's August 2019 Summer Photo Contest!
ENTER TO WIN!
Grand prize of $250 Cottonwood Bucks! Runner-up prize of $50 Cottonwood Bucks!
*Valid at Cottonwood Cove RV Resort's convenience store, board rental & ice cream shop, and The Cove Bar and Grill.
HOW TO ENTER
1. FOLLOW
Facebook: @cottonwoodcoveresort OR Instagram: @cottonwood_cove.
2. POST & TAG
Your Best Summer Photo at Cottonwood Cove!
To Facebook: @cottonwoodcoveresort OR Instagram: @cottonwood_cove
3. HASHTAG
#sandytoescottonwoodcove

RULES
1. Contest starts August 1st and ends August 31, 2019, at midnight.
2. Photos must be taken at Cottonwood Cove RV Resort and the surrounding area.
3. Contest open to residents of Canada and US only.
4. By entering you have given Cottonwood Cove RV Resort permission to share your photos for promotional purposes
5. No entry limit or age restrictions.
Need Inspiration?
The beauty of the Shuswap is endless! Consider a few of the following suggestions for your entries:
Paddling or kayaking at the cove
Boating, wakeboarding, skiing, tubing on Shuswap Lake
Sunrises and Sunsets
Scenic shots of the Shuswap
Creative shots of the resort amenities: marina, pool and hot tub, playgrounds, gazebo, ice cream shop etc.
Biking or hiking the internal trail systems
A day at the Beach
Campfires, roasting s'mores with your family
Hanging around your RV with friends
Shots of your RV setup & lot
Include your Pets if they will let you!
GOOD LUCK EVERYONE!!!!
If you have any questions at all about this contest please email alana@fortunemarketing.ca.
Proudly Marketed by Fortune Marketing